Today I have been highlighted on the wonderful blog Quilt story,
http://www.quiltstory.blogspot.com/
. If only you could see my smile right now, I think it will be their all day. :) I have had the opportunity to read so many wonderful stories behind the production of quilts, and it now feels like such an honor to share the story behind one of my quilts. I hope you enjoy it.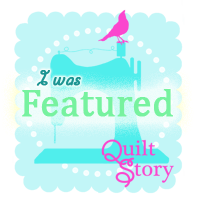 For
almost
everyone here is new, please realize that I'm new to blogging. But the greatest thing about it meeting new friends and sharing experiences. I look forward to hearing from you. May you have a wonderful day!