Without all of the calories! This one occassion you can enjoy all the fun of a party with out the guilty after effect. How can you possibly resist? Especially when it's hosted from our friends at Quiltstory. Why not come and enjoy the party, meet other quilters, or just gain inspiration.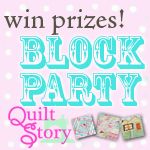 I couldn't resist joining in. The only admission needed was one unfinished(unbound, unquilted) singular quilt block. I knew right away what my choice would be. It had been on my mind all week long. So I gave it a go, with the remaining part of a bliss charm pack.
Personally I think this fits most under the tradional section. Even though the fabric is modern.
I really wish that I could have gotten a better picture for you. But this is a party. So you just have to take my block for what it is. After all it's not going to ask you out for a drink later, no hidden pick up lines. Just beautiful fabric put together.
So now you have seen my Carpenter Wheel block. Personally, I'm ever so thankful that I only made one. I spent equally amount of time ripping out seams as I did sewing it together. I don't like the half square triangles, I think the block may have been better when it was made using y-seams. So if you know of a great pattern out there please let me know.
At this point I should behave like any good college student, and return to the books. Too bad quilting books don't count.