I still love my husband and my children. But I am going to give up my viginity once again. You've heard right, again and with others. I am going to try something new in the garden that is.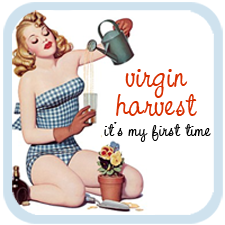 Do you feel a bit relieved? now knowing what I am up to. The point of the virgin harvest is to get out and grow something. No matter how big or how small. Just try something new and share your experience.
Personally, I have always loved gardening from the very first time that I was able to get marigolds to grow. There is just something about playing in the dirt. It is satisfying! But I do so much better with flowers than vegetables, although each year I keep trying.
Earlier this week, this is what my garden beds looked like. The snow has since melted off, due to rain. Lots and lots of rain! The
whole
North East is under flood watches and warnings, including those close to home. As all the rivers and creeks were allready full and most of the ground is still frozen. The yard is starting to look more like a pond.
As the sump pump works today, I dream of warmer, dry weather, to be outside. The planning has just begun, as I dream of things like planting blueberrys, apple trees, garlic, herbs, and don't forget the fresh vegetables. Truely this is just the beginning, when there is endless possiblities. Assuming I don't wash away anytime soon!